Bali is a well-known destination in Indonesia that many dream of visiting. However, there is a difference between the dream and reality. My first visit was in 2009, and I was taken aback by the dense traffic and urbanization. Such a shock in contrast with the idyllic image of a wild island I had in my mind!
In 2015 I came back to Bali and found a more authentic experience in Nusa Penida that met my expectations.
I moved to Bali in August 2020 due to the pandemic. After spending eight months in Nusa Penida, I now reside in Seminyak. During the pandemic, Bali offered an incredible quality of life with no tourists and low prices. But even after the borders reopened and tourists returned, I have come to appreciate Bali, the Island of the Gods!
Therefore, here are my recommendations to make your trip to Bali as extraordinary as possible. Combining must-see tourist destinations with off-the-beaten-path adventures whenever possible.
My Favorite Places in Bali
Seminyak
I'll start with Seminyak because that's where I live now. I find it to be a good balance between nature and beach on one side and entertainment on the other. Seminyak is indeed famous for its restaurants, bars, fashion boutiques, and beach clubs. But Seminyak Beach is also one of the most popular on the island, offering spectacular sunsets and water sports activities, including surfing.
Seminyak is also known for its lively nightlife. The beach bars and clubs in Seminyak are the most popular places to enjoy Bali's festive atmosphere. Ku De Ta, Potato Head, and Finns are the oldest, but new beach clubs have recently opened such as Café del Mar, Mari, and Atlas.
There are also numerous accommodation options in Seminyak, ranging from luxury hotels to private villas. Luxury hotels offer world-class amenities, including extraordinary swimming pools. Private villas, on the other hand, provide total privacy and a unique stay experience.
Personally, I much prefer Seminyak to Kuta in the south, which has been a victim of mass tourism for the past few decades. And even to Canggu in the north, which has become impractical due to the traffic jams created by the thousands of influencers who flocked there during and after Covid.

Ubud
Ubud is a village located in the central mountains of Bali. It is renowned for its Balinese culture, temples, and terraced rice paddies. It is also a popular retreat for tourists seeking relaxation and rejuvenation. The Ubud Palace, located in the city center, is a popular tourist attraction where visitors can learn about Balinese royalty and the history of the city.
Ubud is also known for its temples, including the famous Gunung Kawi, Tirta Empul, Goa Gajah, and Pura Taman Saraswati temples. For those seeking relaxation and spiritual rejuvenation, Ubud is home to numerous yoga, meditation, and wellness centers. Luxurious hotels with internationally renowned spas offer traditional healing treatments and massages.
In addition, tourists can elect Ubud as their base camp to explore the rice terraces of Jatiluwih and Tegallalang or venture to numerous spectacular waterfalls. Many also choose to stay in Ubud before embarking on an ascent of Mount Batur.
Overall, Ubud is a cultural and artistic destination that attracts travelers seeking relaxation, spirituality, and a deeper understanding of Balinese culture. Check the date of hinduist ceremonies in Bali, maybe you will have the chance to attend to one of them in Ubud!
Uluwatu
Uluwatu is located on the Bukit Peninsula in southern Bali. The Uluwatu Temple is one of the main tourist attractions in the area. Perched on a cliff overlooking the Indian Ocean, the temple offers stunning views of the surrounding landscape. Visitors can also witness traditional Balinese dance performances in the temple during sunset.
Uluwatu is also known for its surf beaches, such as Padang Padang and Bingin. The waves are powerful and best suited for experienced surfers.
Numerous beach bars and clubs offer live music and DJ parties, such as Single Fin and Omnia. There are also many high-end hotels in Nusa Dua, such as the Kempinski, which hosted the G20 heads of state in November 2022.
Sidemen
Sidemen is a perfect destination for travelers seeking authenticity and tranquility. Located in the eastern mountains of Bali, this region offers breathtaking landscapes of terraced rice fields and lush mountains. The traditional villages of Sidemen are also very interesting to explore, with their wooden houses adorned with Balinese sculptures and paintings. The locals in Sidemen are very welcoming and happy to share their culture and way of life with visitors.
Popular activities in Sidemen include hiking, cycling, temple visits, and discovering Balinese culture. Travelers can also learn how to cultivate rice, weave bamboo baskets, or prepare offerings for local temples.
Sidemen is also an ideal retreat for those looking to recharge and reconnect with nature. Accommodations often consist of traditional wooden bungalows or luxurious villas with views of the mountains and rice fields.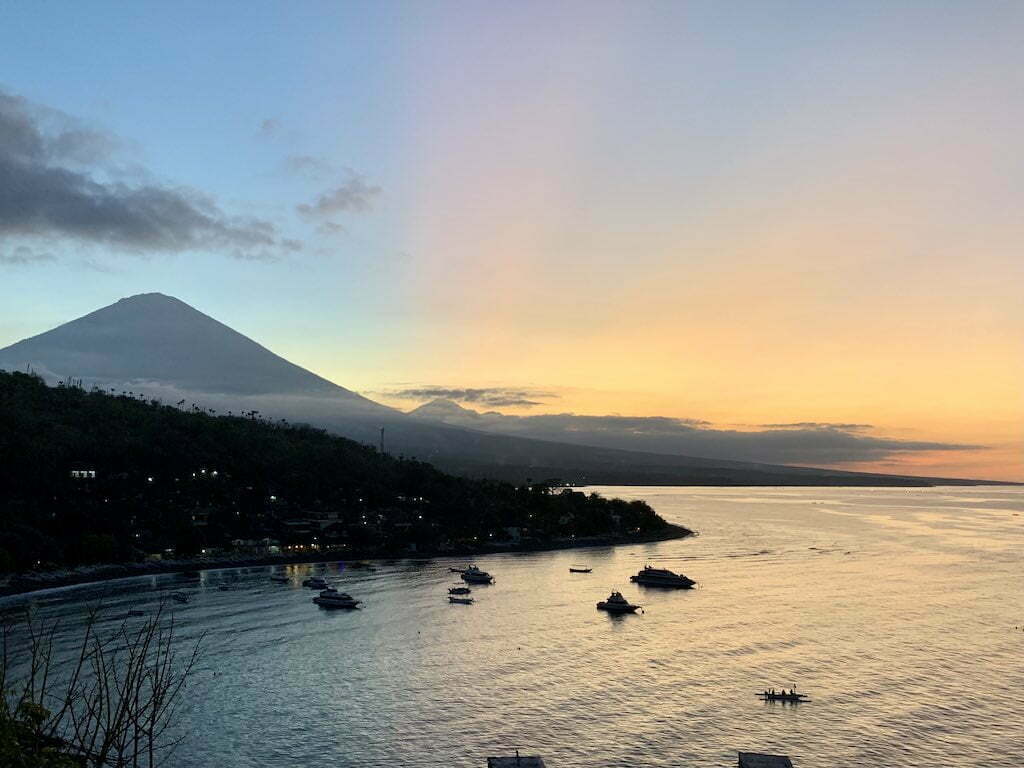 Amed
Amed is a small seaside town located on the east coast of Bali. Known for its peaceful and relaxing atmosphere, Amed is a popular destination for travelers seeking tranquility. This region is also famous for its scuba diving, with an abundance of world-class diving sites, including the USAT Liberty shipwreck.
Amed is also an excellent starting point for exploring the surrounding areas, including traditional fishing villages, terraced rice paddies, and Balinese temples. The black sand beach of Amed is also a favorite spot for swimmers and water sports enthusiasts.
Amed is an ideal destination for travelers seeking a quiet and authentic setting in Bali.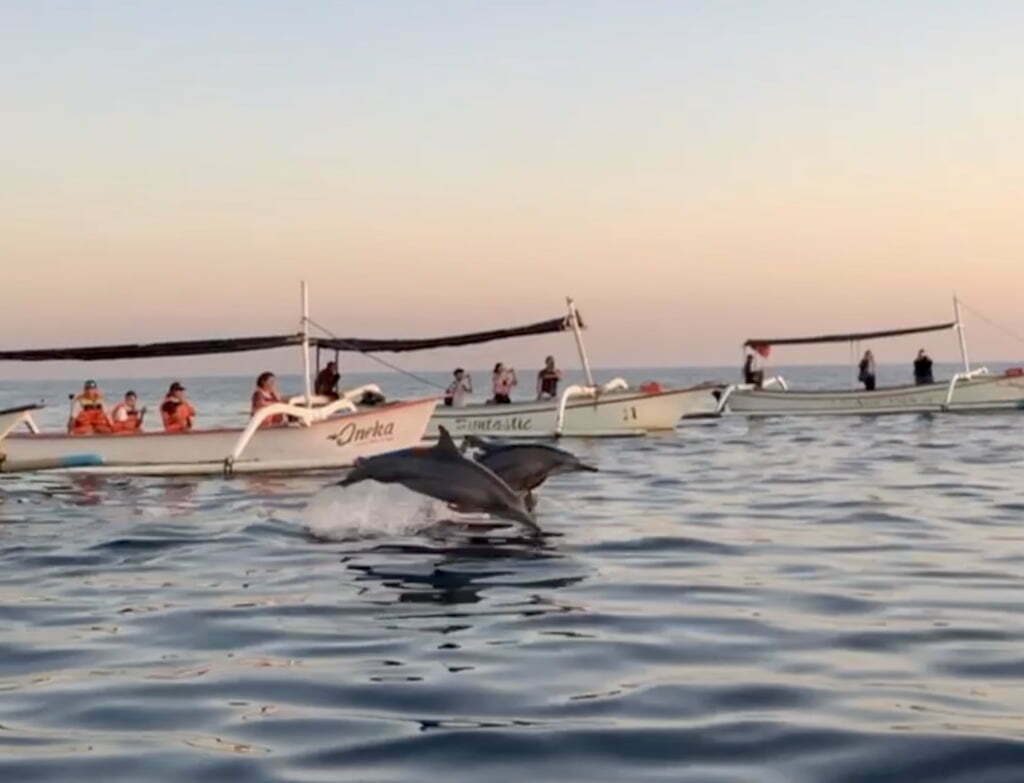 Lovina
Lovina is a region situated on the north coast of Bali, renowned for its tranquil beaches and wild dolphins. Unlike more lively beach locations such as Seminyak and Kuta, Lovina offers a more laid-back and peaceful atmosphere. Lovina's black sand beaches offer stunning views of the surrounding mountains, as well as spectacular sunsets. The wild dolphins of Lovina are one of the main attractions of the region. It is possible to take an early morning boat ride to observe these marine creatures playing in their natural habitat.
In addition to that, Lovina also offers many activities such as fishing, yoga, spa and trekking excursions. Visitors can also enjoy the many beachside restaurants. Lovina is an ideal destination for travelers seeking to recharge and reconnect with nature in a peaceful and relaxing setting.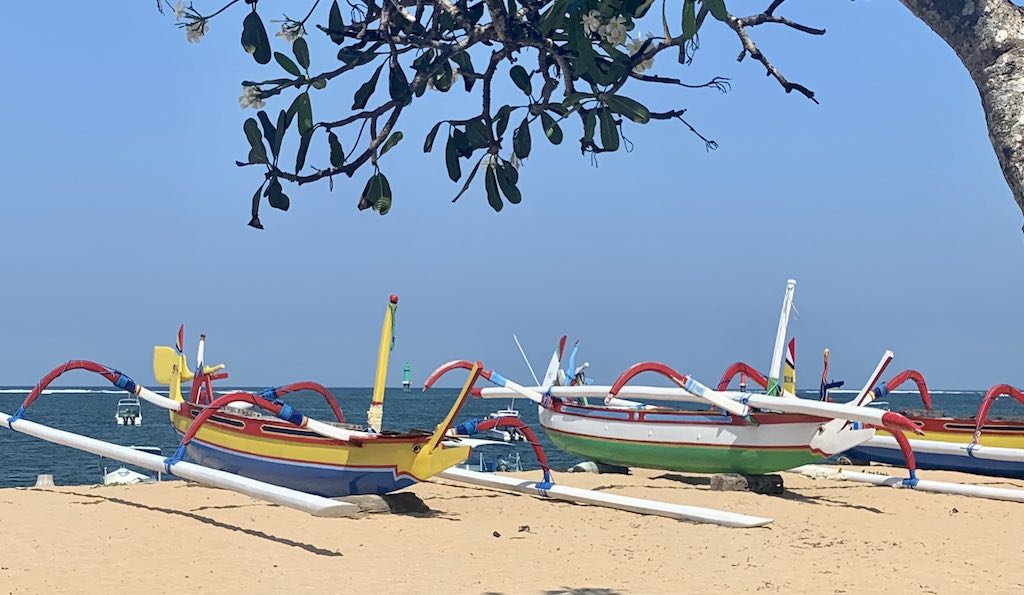 Sanur
Sanur is a seaside village located on the east coast of Bali, offering a calm and relaxed atmosphere. Unlike other bustling beach towns in Bali, it is the perfect place to unwind, relax and enjoy the beach without the crowds and noise.
Sanur is also known for its water sports, including kite surfing, kayaking, and windsurfing. Visitors can rent equipment and take lessons to improve their skills.
In addition to the beach, Sanur also offers a variety of restaurants, bars, and shops, as well as temples and local markets. Travelers looking to further explore the region can also take a boat to the neighboring island of Nusa Penida for a day or more of adventure.
Nusa Penida
Nusa Penida is an island located about an hour boat ride from Bali. The island is renowned for its incredible natural landscapes, including steep cliffs, white sandy beaches, and crystal-clear waters. Nusa Penida is a popular destination for adventure enthusiasts and nature lovers, offering a wide variety of activities such as scuba diving, snorkeling, and hiking.
The most famous beach in Nusa Penida is Kelingking Beach, also known as T-Rex Beach due to its dinosaur head-shaped formation. The white sand beach is surrounded by spectacular cliffs and offers breathtaking views of the ocean. Angel's Billabong and Broken Beach are two other popular attractions in Nusa Penida, offering unique and stunning natural landscapes. Diamond Beach is also becoming extremely popular thanks to its iconic staircase carved into the cliff.
Nusa Penida is an ideal destination for travelers seeking to escape the hustle and bustle of Bali and discover another side of Indonesia.
How to Get to Bali:
Getting to Bali is now very easy. Tourist visas are available again for travelers, which can be obtained on arrival at the airport or online before your trip. The visa is valid for 30 days and can be renewed for an additional month. There are four very good airlines that operate flights to Bali: Singapore Airlines, Emirates, Air France, and Qatar Airways. However, prices can vary greatly between airlines and even from day to day. As of 2023, a round-trip ticket costs between approximately 1000 and 2000 euros. Typically,  Qatar Airways offers the most affordable option.
To find the best prices, you can use a flight metasearch engine. The best metasearch engine is undoubtedly Skyscanner.  Unlike other engines, Skyscanner does not charge extra fees on top of the airline's fares. If you are flexible with your travel dates, you can enter your departure airport (CDG) and arrival airport (DPS) and leave the dates open. The website will then display a calendar with the most favorable dates.
You may also choose to fly to Jakarta and to travel through Java to enjoy Borobudur, Bromo and Ijen on the way.