Bali is one of the most popular tourist destinations in Indonesia, known for its white sandy beaches, traditional temples, lush green rice paddies, and breathtaking landscapes. To fully enjoy everything the island has to offer, it's important to know how to get around Bali efficiently and safely. In this article, we will explore the different transportation options available in Bali, including airport arrival, scooter rental, and car rental. These tips are also applicable for traveling around Lombok. You can also read my article on how to get around Nusa Penida.
Taxi or Grab?
The first point of contact for many visitors to Bali is the Ngurah Rai International Airport. Once you have cleared immigration and retrieved your luggage, you have three main options to get to your destination. You can take a taxi, use the Grab app, or have arranged your pick-up in advance.
Taxis in Bali
Taxis are readily available at the airport and can be booked at a counter inside the terminal. Fares are based on distance and destination, and displayed to avoid price conflicts. Taxis in Bali are often not equipped with meters, so it's very important to negotiate the fare in advance if you take a taxi outside the airport. Alternatively, you can choose to only take Blue Bird taxis, which are all equipped with meters.
Getting around Bali with Grab
Alternatively, you can use the Grab app to book a car from your smartphone. Grab is a popular ride-sharing app in Southeast Asia and offers competitive rates compared to taxis. The app automatically calculates the fare based on distance and travel time.
Grab drivers are now allowed to enter the airport grounds. You simply need to walk a few meters to the Grab lounge. This is a convenient and economical option for point-to-point travel.
For everyday trips, Grab is the best solution. The only downside is that you may have to wait a long time during heavy rain, as everyone prefers to travel by car rather than on a scooter…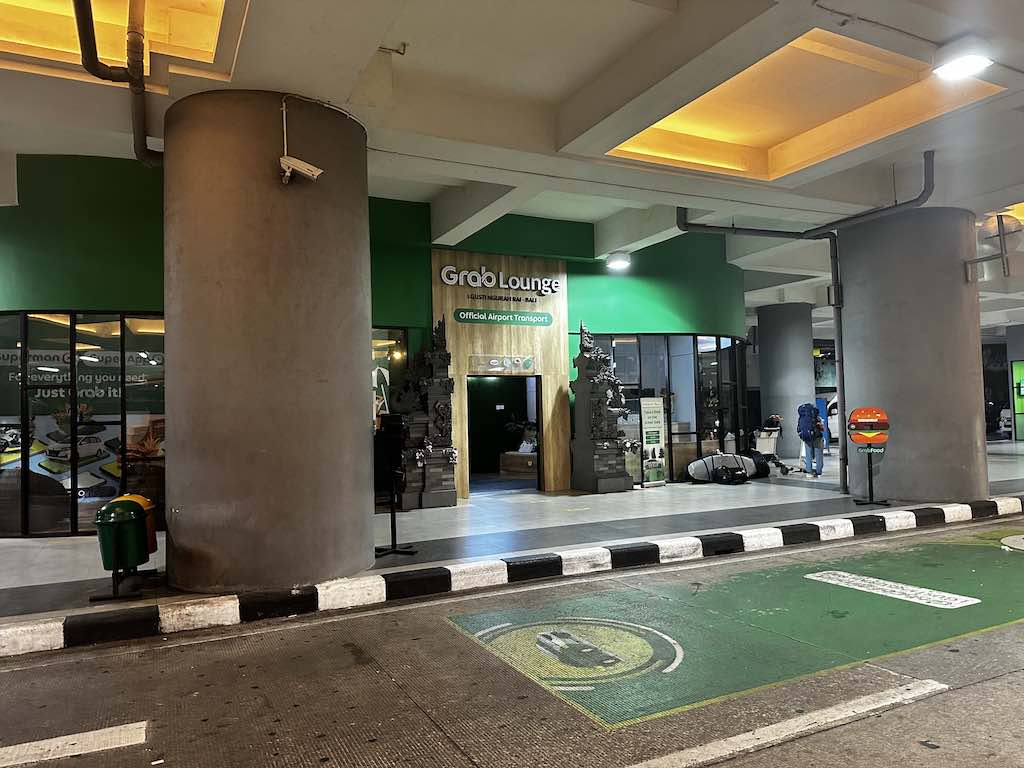 Pre-arranging your Bali airport transfer
Finally, the best solution is to pre-arrange a fixed-price driver. The driver will be waiting for you at the airport with your name on a sign to take you to your hotel. This option is less stressful after a long trip, not necessarily much more expensive, and it's always nice to feel welcomed!
Send me an email, and I will provide you with a contact.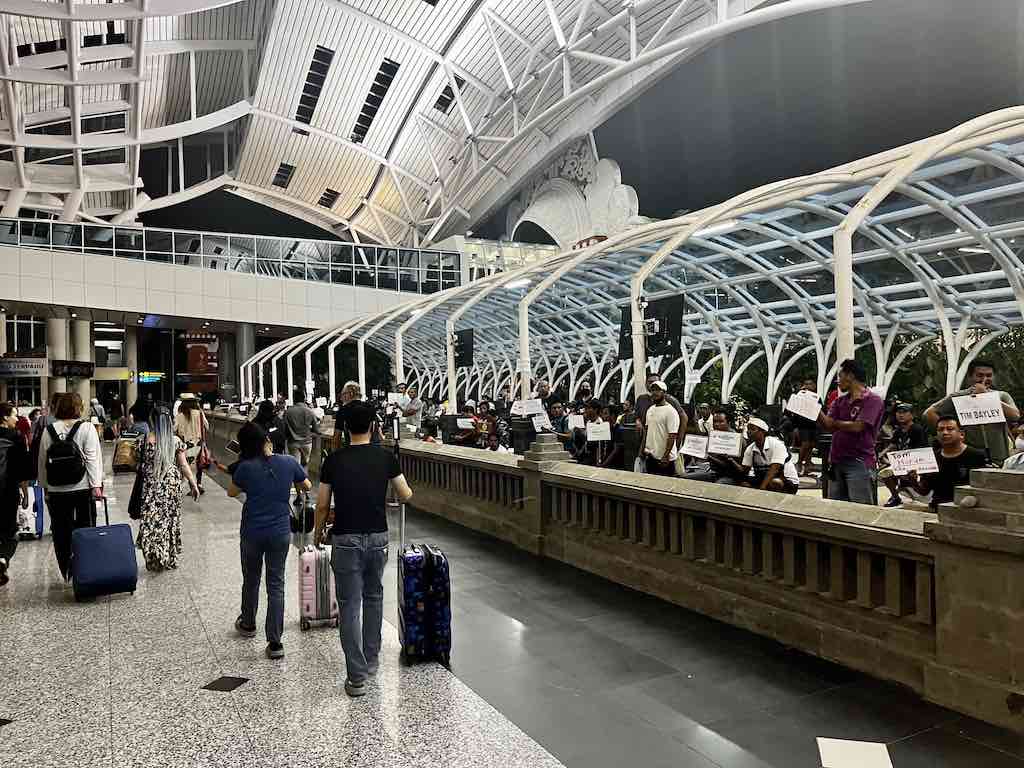 Getting around Bali on a scooter
Renting a scooter is a popular option for travelers in Bali, Lombok, or Indonesia in general, especially if you want to explore the island independently. It's also an economical way to get around Bali, with rental rates around 70,000 to 100,000 IDR per day depending on the brand and age of the scooter. Monthly rental will be even cheaper.
A scooter is the most appropriate means of transportation for short distances of less than an hour, especially if you're alone or with one other person. However, it's important to remember that driving in Bali can be challenging, especially in urban areas. If you decide to rent a scooter, make sure to wear a helmet, have a valid international driver's license, check that your insurance covers you, and remember to drive on the left!
I recommend renting from Bikago. This company have been operating since 2014, offering well-maintained scooter rentals with efficient insurance and customer service. They have 8 locations in Bali, and they can also arrange scooter delivery or pick-up at the airport, your hotel, or the ports of Sanur, Padang Bai, and Gilimanuk.

Getting around Bali by car
For longer distances, the best way to get around Bali is by renting a car with or without a driver.
Renting a car without a driver in Bali
Renting a car without a driver in Bali is a popular option for travelers who prefer to be independent and have experience driving in a foreign country. Renting a car without a driver also offers great flexibility to explore the island at your own pace.
Many rental agencies offer rental cars without a driver. You must be at least 21 years old and have an international driver's license to rent a car in Bali. It's also recommended to have good car insurance to cover any possible damage or accidents.
The rental price of a car without a driver is around 25 to 30 euros per day.
Disadvantages of renting a car without a driver
There are, however, many disadvantages to renting a car without a driver in Bali. Driving in Bali can be difficult and even dangerous, especially for inexperienced drivers. Traffic is often dense, and roads are narrow, which can make driving stressful and difficult. Motorists also have to deal with obstacles such as stray dogs, pedestrians, or potholes. Additionally, most of Bali's roads are not lit at night. Finally, you will have to pay for fuel and any possible repairs to the car if the insurance isn't comprehensive.
Personally, I do not recommend renting a car without a driver. I prefer renting a car with a driver to get around Bali for longer trips.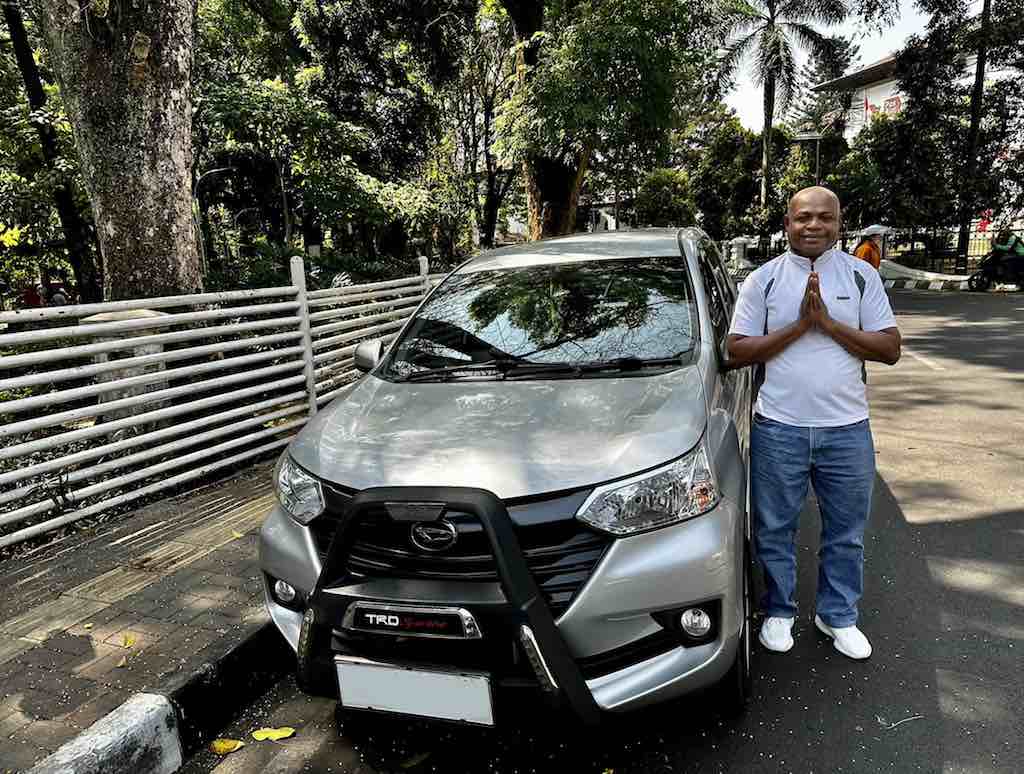 Renting a car with a driver in Bali
Renting a car with a driver is the most popular option for travelers who prefer to avoid the hassle of driving in Bali. It's also my preferred option for the following reasons:
Comfort and safety
When you rent a car with a driver, you can relax and enjoy the ride. Local drivers are familiar with the roads and driving conditions in Bali. This also means that you'll avoid traffic jams and complicated routes. In addition, local drivers are aware of potential dangers and drive safely. Ultimately, you'll be safer than if you were driving yourself.
Flexibility
The car with a driver is rented for a fixed number of hours, usually a maximum of 8 hours per day. You can therefore decide with your driver where you want to visit, your itinerary, and stay at each location as long as you want. This solution offers practically the same flexibility as if you were driving yourself.
Local knowledge
Local drivers have in-depth knowledge of the island, its attractions, and cultures. They can provide useful information about places to visit, local customs, and the best times to avoid crowds. In addition, they can recommend local restaurants and help you negotiate prices for products and services.
Economical
Renting a car with a driver may seem more expensive than renting a car alone, but it can actually save you money in the long run. Local drivers know the shortest and most efficient routes to get around Bali.
Google Map : your best friend to get around Bali
Google Maps is a very useful tool for getting around Bali or Indonesia in general. Whether you're looking for directions to your hotel, trying to find a beach to explore, or want to visit a temple, Google Maps can help you find the best route possible.
To start, it's important to download the offline map of the area you'll be visiting on your smartphone. Google Maps calls this the offline map. For example, the entire offline map of Bali takes up around 140 MB. With this offline map, you can calculate the best generic route even without an internet connection. If you have a stable internet connection, you can also use it to find the best route based on real-time traffic conditions or the best route for riding a scooter.