Indonesia, located in Southeast Asia, is one of the largest and most diverse countries in the world. With over 17,000 islands, Indonesia offers a multitude of unique landscapes, cultures, and traditions that attract travelers from around the globe.
My favorite places in Indonesia
Bali
Bali is probably the most famous destination in Indonesia, and it definitely lives up to its reputation. This island is a tropical paradise with white sandy beaches, crystal clear waters, and a unique culture. The center of Bali is dominated by volcanic mountains that offer spectacular views and plenty of opportunities for hiking and outdoor activities.
Ubud, the cultural capital of Bali is famous for its temples, craft markets, terraced rice paddies, and peaceful atmosphere. The beach of Seminyak is also a popular spot for surfers and sun-lovers. For a more tranquil experience, you can visit Nusa Penida, famous for its spectacular cliffs and incredible beaches.
Lombok
Lombok is a beautiful Indonesian island situated east of Bali. Known for its pristine beaches, clear waters, and untouched natural beauty, Lombok is a popular destination for tourists seeking a more laid-back, off-the-beaten-path experience.
The island is home to numerous gorgeous beaches, such as Kuta Beach and Senggigi Beach, which offer fantastic surfing, swimming, and sunbathing opportunities. The Gili Islands, located off the west coast of Lombok, are also a very popular destination.
Mount Rinjani
One of Lombok's most iconic landmarks is Mount Rinjani, an active volcano and the second-highest mountain in Indonesia. The trek to the summit is challenging but rewarding, as it offers breathtaking panoramic views of the island and the surrounding sea. Along the way, hikers can witness the beauty of the local flora and fauna, including rare species like the Rinjani scops owl and the Lombok leaf warbler. Even if you don't want to climb Mount Rinjani, there are many treks around, like the trek to Tiu Kelep waterfall.
Sasak culture
Lombok is also famous for its rich culture and traditions. The Sasak people, the island's largest ethnic group, are famous for their weaving and pottery skills, and visitors can observe and learn from them at local markets and workshops. The Sasak people are also known for their unique martial art form called Pencak Silat, which is performed during traditional ceremonies and festivals. You can visit the traditional village of Sasak Ende to have a quick introduction to Sasak culture.
Tana Toraja
Tana Toraja, located in the central highlands of Sulawesi, Indonesia, is a region rich in cultural heritage and natural beauty. The area is famous for its traditional architecture, elaborate funeral rituals, and stunning landscapes.
One of the most unique features of Tana Toraja is its traditional houses, called Tongkonan. The roofs of these houses curve upwards at the ends, giving them a very characteristic shape. Torajan people also use traditional rice barns called Lumbung, with a similar shape, to store their rice.
Tana Toraja funeral ceremonies
Another significant aspect of the culture in Tana Toraja is its elaborate funeral ceremonies. These events are very important in Torajan culture and can last for days or even weeks. The ceremonies involve elaborate feasts, traditional dances, and the sacrifice of water buffaloes or pigs.
In addition to its cultural significance, Tana Toraja is also home to stunning natural landscapes. The region features rice paddies, rolling hills, and lush forests, making it a paradise for hikers and nature lovers. The area is also famous for its impressive cave systems, such as the Londa cave, home to ancient coffins and bones.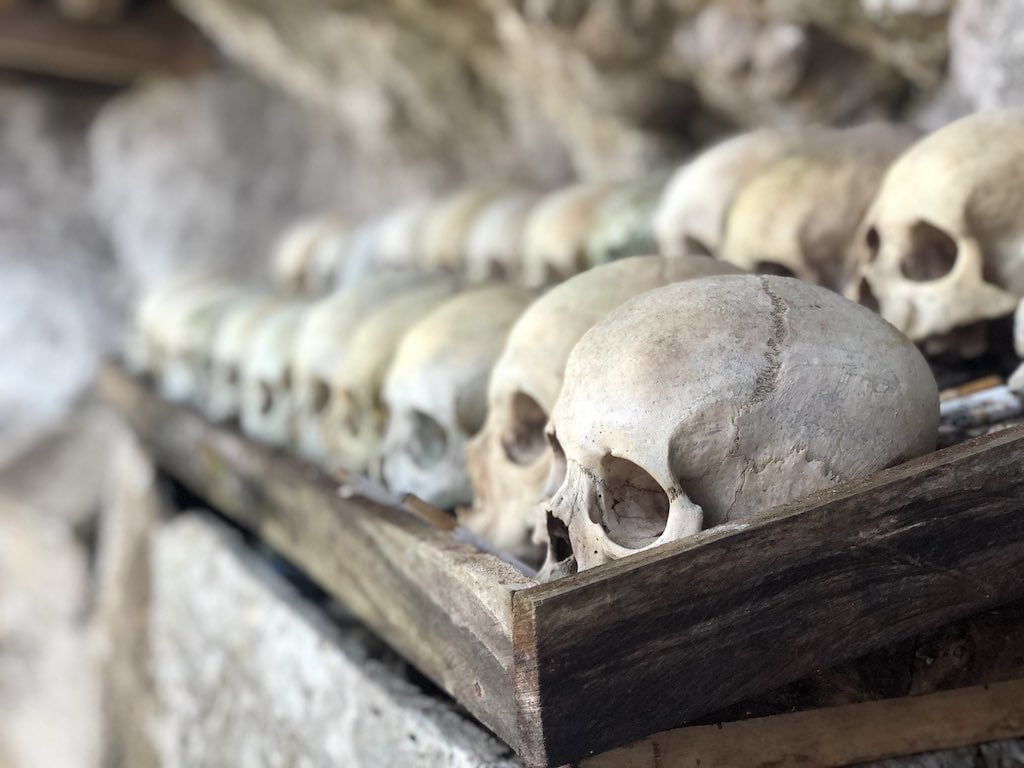 Kete Kesu
For visitors to Tana Toraja, one of the must-visit locations is the village of Kete Kesu. This traditional village is indeed home to many well-preserved Tongkonan houses. It is indeed a great place to learn about Torajan culture and traditions. Visitors can also explore the nearby cliff-side graves. The graves are carved directly into the rock and provide a fascinating glimpse into Torajan burial practices.
Flores
Flores is an island located in the eastern part of Indonesia, between Sumbawa and Timor islands. It is popular for its rugged and stunningly beautiful landscapes, crystal-clear waters, and vibrant cultures.
One of the most popular attractions in Flores is the Kelimutu volcano. This volcano is super famous for its three crater lakes with different colors. The colors of the lakes change depending on the volcanic activity and the mineral content, making Kelimutu a fascinating and ever-changing sight.
You can also visit in Flores many traditional villages. And immerse there in the unique cultures and customs of the locals. The traditional houses, textiles, and crafts of Flores are distinct and beautiful. They perfectly well reflect the island's long and rich history.
Another must-see attraction in Flores is the Komodo National Park.
Komodo National Park
Komodo National Park was established in 1980 to protect the endangered Komodo dragons. The park covers an area of approximately 1,733 km². It comprises three main islands: Komodo, Rinca, and Padar, as well as numerous smaller islands.
The park is popular for its diverse marine life, coral reefs, and pristine beaches. It is indeed a very popular destination for snorkeling and scuba diving enthusiasts with more than 1,000 species of fish, manta rays, dolphins, and sea turtles. The park is also a popular spot for fishing.
In addition to its marine life, the park also boasts a unique terrestrial ecosystem. Visitors can trek through the rugged landscape of Komodo and Rinca islands to see the iconic Komodo dragons in their natural habitat. These giant lizards, which can grow up to 3 meters in length, are a true wonder of nature.
Java
Java is Indonesia's most populous island. It is a vibrant and diverse place with a rich cultural heritage and stunning natural beauty. Java is popular for its beautiful beaches, lush rainforests, and towering volcanoes, making it a popular tourist destination for travelers from around the world.
Yogyakarta
Java has a long and complex history. That's why you will find many fascinating cultural attractions on the island. Some of the most popular places to visit in Java include the ancient Buddhist temple of Borobudur, the Hindu temple of Prambanan, and the royal palace of the Sultan of Yogyakarta. These historical sites are not only beautiful, but they also provide insight into the island's rich past and the influence of various cultures on Java over the centuries.
Bromo
Despite being a densely populated island, Java also features many beautiful natural attractions. From the famous Mount Bromo volcano to the stunning Kawah Ijen crater lake, there are many opportunities to explore Java's breathtaking natural landscapes. Whether hiking through lush rainforests, snorkeling in crystal-clear waters, or simply relaxing on a beautiful beach, visitors to Java are sure to be amazed by the island's natural beauty.
Raja Ampat
Raja Ampat is a stunning archipelago located off the coast of West Papua in Indonesia. It is famous for its crystal-clear waters, vibrant coral reefs, and diverse marine life, making it a popular destination for snorkeling and diving enthusiasts.
The archipelago consists of more than 1,500 small islands, many of which are uninhabited, and the surrounding waters are home to more than 600 species of coral and 1,700 species of fish, making it one of the most biodiverse marine areas on the planet. One of the best ways to explore Raja Ampat and discover its amazing underwater life is to take a diving cruise on the Dune Aurora boat.
In addition to diving, the islands of Raja Ampat are also popular for their pristine beaches and breathtaking views.
How to travel to Indonesia?
To travel to Indonesia, tourists can take a direct flight from many cities around the world. The country's busiest international airports are Soekarno-Hatta International Airport in Jakarta, Ngurah Rai International Airport in Bali, and Juanda International Airport in Surabaya.
Travelers must have a valid passport and visa to enter Indonesia. Citizens of many countries, including France, can enter Indonesia with a tourist visa. You can get your visa online or upon arrival at the airport. It is valid for a period of 30 days, which can be renewed once.
Find the cheapest flight to Indonesia
To find the cheapest flight to Indonesia, I recommend using Trip.com. If you are flexible with your travel dates, you can enter your departure airport and arrival airport (DPS for Bali or CGK for Jakarta). When you click on the departure date, a calendar will appear showing the price of the cheapest flight for each day.
Using this method, you can compare prices for different dates and airports to find the most affordable option that suits your schedule. Additionally, you may want to consider booking in advance or being open to red-eye flights, which can often be less expensive.
Travel within Indonesia
There are several options to getting around Indonesia : domestic flights, trains, buses, minivans or cars.
Book your hotel in Indonesia with 15% discount
Many hotels are now offering promotions on Booking.com for stays between April 4 and September 28, 2023.

Best time to visit Indonesia
Indonesia is a vast and diverse country with a tropical climate. So the best time to visit can vary depending on where you plan to go and what activities you want to do. Generally, the best time to visit Indonesia is during the dry season. It runs from May to September, with July and August being the peak tourist months.
During the dry season, most areas of Indonesia experience sunny weather with lower humidity and less rainfall. This makes it an ideal time for outdoor activities such as hiking, snorkeling, and beach hopping. It is also the perfect time to visit popular destinations such as Bali, Lombok, and the Gili Islands.
The wet season runs from October to April. If you plan to visit Indonesia during the wet season you should be prepared for occasional heavy rainfall and higher humidity levels. However, this can also be a good time to visit if you want to avoid the crowds. And also take advantage of lower prices on accommodation and flights!